Directions & Maps
Beaches California - MDR
Marina del Rey Guide
Marina del Rey History
Marina del Rey Vistors Info
Coast Guard News
Don Knabe, County Supervisor
Rally To Save Marina del Rey
Recreational Boating Guide




Burton W. Chace Park was first opened in 1972 at 13650 Mindanao Way in Marina del Rey, California and was named in honor of the Father of the Marina and long-time Los Angeles County Supervisor, Burton W. Chace. The Park hours are from 6:00 am to 10:00 pm 7 days a week while the Office hours are from 8:00 am to 8:00 pm 7 days a week. Burton W. Chace Park offers multi-purpose rooms, picnic tables, barbecues, pergolas, picnic shelters, outdoor programs, great harbor viewing areas, guest docks, and is host to numerous year-round events. Admission is free. The Marina del Rey water bus offers rides around the Marina for $1.00. There are always a number of Events going on in the Park throughout the year, including the Discover Marina del Rey Day where you can meet the Chace Family the first Sunday of each October.

The Park has a Community Room for which reservations may be made for your community event and great outdoor facilities. This web site was established by the Chace Family as a resource on the history of the Park, Burton W. Chace's many accomplishments and contributions to the County of Los Angeles, and a place where you may enjoy photos of the lovely Park and find detailed news on Events and the future of this wonderful Park.

Burton W. Chace Park: 10 acres of lush lawn and trees extend into the Marina's main channel offering magnificent boat and ocean vistas. Built-in barbecue grills and tables invite picnicing. The free outdoor summer concerts run from July through September each year on Thursday and Saturday nights.

If you are into cycling, the Park is located on the South Bay Bicycle Trail which spans from Will Rogers State Beach to the north in Pacific Palisades to Torrance County Beach in the South at the base of the Palos Verdes Peninsula and the Park is located about halfway between the two points making it an ideal stop along the way.

Burton W. Chace Park has been the site of many weddings, scenes on television shows including the OC, and is home to a wealth of community events throughout the year. The Park office displays historical photographs of Santa Monica, Playa del Rey, and the canals of Venice in 1905, when they were new. There is an excellent history of Marina del Rey on the VisitMarinadelRey.com web site, and well as history section on this site. We invite you to come experience this wonderful park for yourself sometime soon!



Marina del Rey 50th Birthday Bash April 10-12, 2015
Come Celebrate & Discover LA's Marina with the Whole Family
Tall Ships - Harbor Tours - Kids' Activities - Classic Car Show - Food Trucks - More!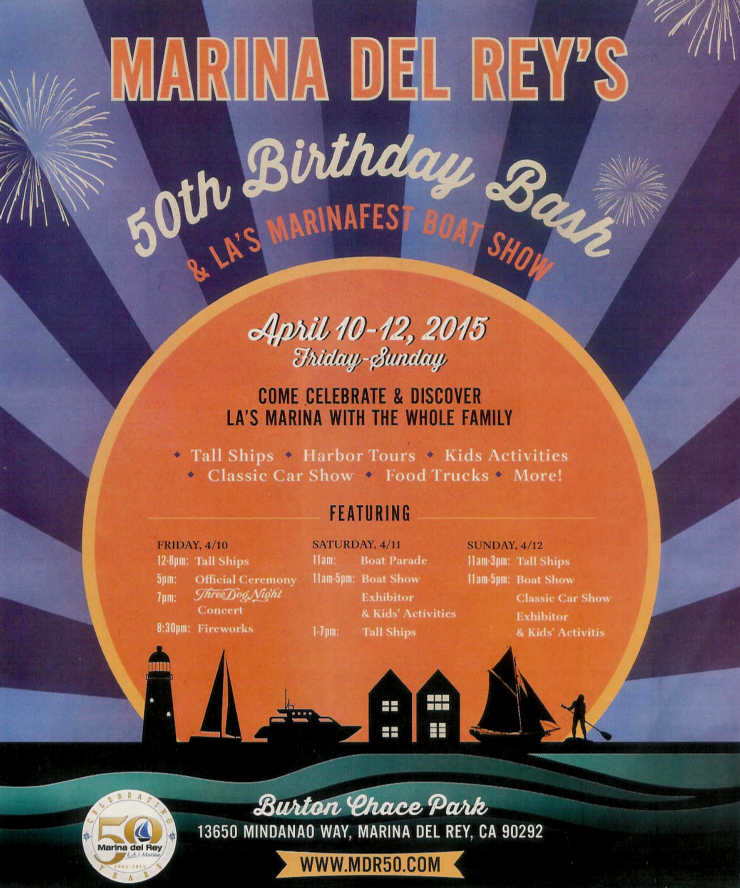 Friday April 10th
12 noon to 8 pm - Tall Ships
5 pm - Official Ceremony
7 pm - Three Dog Night Concert in the Park
8:30 pm Fireworks
Saturday April 11th
11 am -Boat Parade
11 am to 5 pm - Boat Show, Exhibitor & Kids' Activities
1 pm to 7 pm - Tall Ships
Sunday April 12th
11 am to 3 pm - Tall Ships
11 am to 5 pm - Boat Show, Classic Car Show, Exhibitor & Kids' Activities

Hotels & Restaurants in Marina del Rey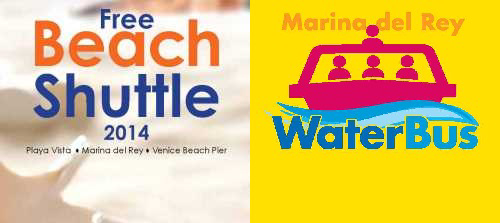 Ride the Beach Shuttle and WaterBus!
The BEACH SHUTTLE starts May 23 and the WATERBUS starts June 19!
Click above for links to the brochures and details.

There is very limited METERED PARKING on the entry grounds of Burton W. Chace Park which has a maximum LIMIT TIME OF 90 MINUTES and costs 25 cents for each 10 minutes. There are three large LA County parking lots on Mindanao Way towards the entrance to Burton W. Chace Park and all of those lots provide parking for a FLAT FEE AS POSTED with no daily time limit These official parking facilities are marked as LA County Parking Lots #4, #5, and #77. Each of those three lots has an attendance and charges the same daily FEE AS POSTED. The parking fee is typically $8 to $10 (cash only on concert dates) and varies based on the day and time and is clearly posted at the entrance to each of the three lots. There is also a FREE BEACH SHUTTLE on Concert in the Park nights, and for more information on the schedules and locations for the Beach Shuttle, go to marinadelrey.lacounty.gov.

Burton W. Chace Park
Park Hours: 6.00 am to 10:00 pm - Office Hours 8:00 am to 8:00 pm
13650 Mindanao Way, Marina del Rey, California 90292
310-305-9595 (Park Main) - 310-305-9545 (Information & Programs) - 310-306-9900 (Groups)
info@bh.lacounty.gov

The ChacePark.com web site is provided as a community service for informational purposes by the Chace Family and we do not handle scheduling or reservations. Please direct all requests for reservations and/or park specific information to the folks at info@bh.lacounty.gov and they will be happy to assist you with this. For more visitor information, including recommendations specific to your situation, contact the Marina del Rey Convention & Visitors Bureau at (310) 305-9545. For group information and travel trade, call 310-306-9900. More information is also available on line at www.VisitMarinadelRey.com or email at info@VisitMarinadelRey.com, or stop by the Marina del Rey Visitor Information Center, 4701 Admiralty Way, Marina del Rey, CA 90292.

Copyright © 1972-2014 ChacePark.com, Burton W. Chace Park, & The Chace Family